Full Overview of MasterPapers Writing Service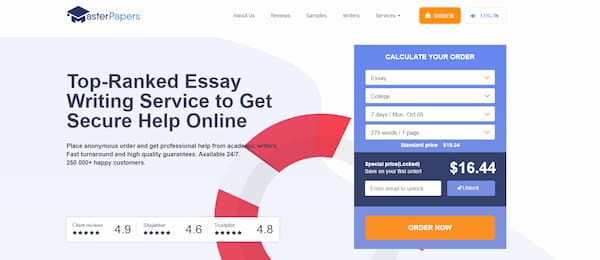 Benefits
– you can select a writer
– attractive discounts
Total

15

Professionalism

70

Quality

85

Functionality

30

Reliability
Visit Site
September, 2020 Last Update
The company is about 15 years already on the market, and it doesn't look like a scam. However, while presenting itself as a platform with top-ranked works and top-grade authors, qualified in academic writing, reviews on independent websites show that it is not that perfect.
We've decided to sift a question to the bottom and provide you with a detailed review on MasterPapers service.
Range of Services – What Can You Order?
At Masterpapers.com, you will find lots of essay types on offer, from those for high school students to more complex ones, as well as dissertation writing service, term papers, book reviews, and editing. Besides this, they can help you with blog posts, job applications.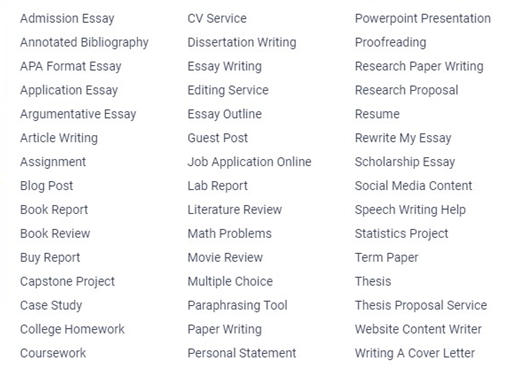 What is inconvenient, though, the service tab is not functional, as it leads to the standard order page. And even after selecting a particular service type, still, in the order window, you will have to find the needed essay type again.
Pricing and Discount Policy
Pricing tab on the Masterpapers.com is well hidden at the bottom of the website. And, moreover, even there, it is useless. As after clicking on it, the only information you see is about the Error 404, which refers to the unfound page.
After quite a long research, we've discovered that you can order an assignment at price starting from $15,26 (the deadline of 20 days). The exact price depends on the urgency and on the academic level: High School, College, Undergraduate Master, Ph.D.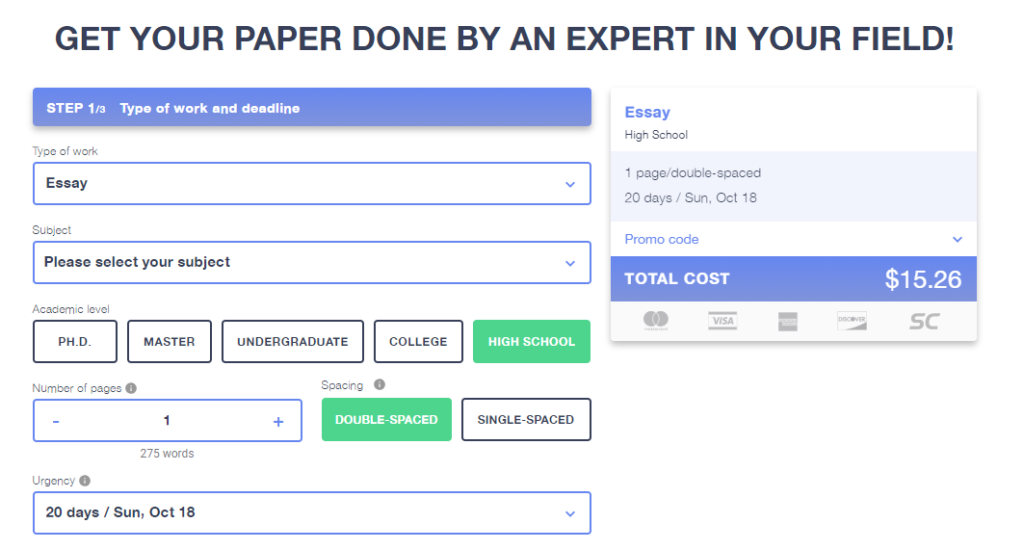 The company offers a 15% price off for new customers. However, there are no discounts for loyal clients, only an additional 5% price off for orders with more than 30 pages.
The payment can be made in 6 currencies, which means that the company is oriented to students from different countries, not only the UK or U.S.
Quality of Delivered Works
Quality of MasterPapers works is a controversial matter, as together with satisfied customers, there are lots of reviews from students who failed because of the badly written assignments delivered by the platform.
Among the most common complaints, there are: not following the client's instructions and failing in covering the whole topic in a case with field-specific subjects.
We can't check if all their writers are indeed real native speakers of English. However, the claim of having 80% of Master's degree writers seems to be untrue, as in other section of the website it is stated that 46% of their writers hold Master's degree.
Guarantees Provided by MasterPapers
The company ensures its clients of a refund guarantee if they provide the proof of instructions violation by their writers. To return your money, you have a month for orders with 20 pages or more, and you have 14 days if you've ordered less than 20 pages.
In case you've canceled the order before its completion, your refund will be only 30% from the cost or 100% to your bonus balance. In any case, you will not get your money back in this situation.
Support and Ways to Get in Touch
Customer support at Masterpapers.com is available in multiple ways: by email, phone, live chat. You can also request a call on the website. The operation time of the customer service is the same as on most similar platforms, i.e. 24/7.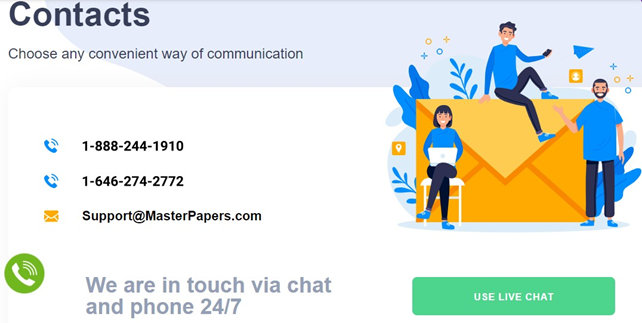 Online Reputation of MasterPapers Service
It's worthy of note that the reviews on independent and trustworthy platforms show a remarkable contradiction in opinions. While there are very many reviews with the top marks, there is quite a number of comments with the lowest grades. And there's almost nothing in the middle, except for one review.
This fact suggests the only thing – most of the positive reviews about MasterPapers service must be fake.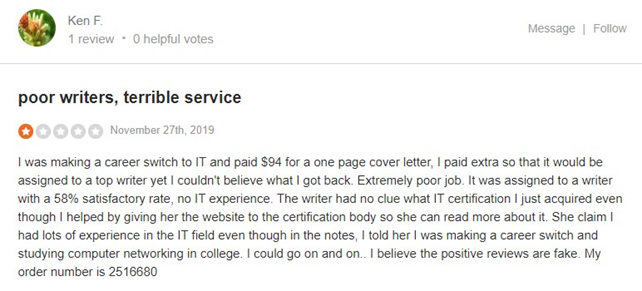 Pros and Cons
We've sorted out some main points about the MasterPapers service to show you what is good and what is bad about working with them. The pons are:
opportunity to select a desirable author;
good discount for newbies of the platform.
Pain points are distressing, though:
questionable quality of works;
no discounts for permanent customers;
very long deadline for affordable price.
Verdict
We can't say that MasterPapers platform is not legit or unprofessional. However, we can't recommend it either, as too many aspects left ambiguous for us, even after the in-depth examination.
We believe that there are good writers with a professional approach, but you can't know for sure, which one will be working on your particular project.
FAQ: Discover all you Need Know about MasterPapers
How Urgently Can I Receive my Assignment Completed?
The minimum deadline available is 1 hour. However, it's not guaranteed 100% to be in time. So, 3 hours, as usual, is a guaranteed minimum deadline. However, the price for such an urgent order will be much higher.
For high school requirements, it costs $36,71. For college demands, you will pay $38,68, for Ph.D. – as much as 47,37.
Also, you may not be able to request a particular writer for this order, as he/she may be already occupied.
Do they Always Meet a Deadline Agreed at Masterpapers.com ?
Usually, they keep to the schedule, but in a case with very urgent works (which must be finished within 1-2 hours), they warn you about the possibility of a delay.
And it is a slight chance that you may get your order earlier than agreed. In case with the longest deadline of 20 days, for example, you are likely to be delivered with the assignment 20 days after the launch of the project.
In What Way the Writer is Assigned to my Order?
Usually, MasterPapers assign you with a particular writer themselves according to his/her availability and expertise. But if you want a top or premium writer to fulfill your writing assignment, you will have to pay extra as much as $11,60 or $23,21 correspondingly per page.
If you don't want a top or premium writer, but just a particular one, you've selected on their website, you have to indicate his/her ID at the time you place an order.
Are All the Writers of MasterPapers.com Native Speakers of English?
On one page of the website we've found the information that all their writers are native speakers. However, on the other page, namely in the FAQ section, they say that not native English speakers are among their staff too.
And they say, it is for a reason when students are afraid that their teachers may get suspicious about them cheating and delivering purchased essays.
Interestingly, you have to take for granted that your work won't be written by non-native speakers.
How Can I Trace My Order's Progress?
At Masterpapers.com they have an option to give you updates on your order status. However, this service is not for free. It will cost you an extra $4 to keep track of your writing assignment. After its connection, you will be receiving text messages about the progress of your order.
In our opinion, it may be a convenient feature, but only if you have some spare money.
Does MasterPapers service provide a plagiarism report?
Yes, they do. On their home page, you can find an advertisement suggesting that a plagiarism report is granted to you for free. In the FAQ section, though, they say that it is provided for an additional cost.
At the same time, we've found some reviews, where clients of the platform complain that their academic papers were delivered plagiarized.
Is it possible to pay for my order upon delivery?
Unfortunately, MasterPapers service works according to such terms and conditions that you have to pay in advance for your order.
They ensure you to provide free revisions of your assignment in case you are disappointed with the result or to return your money. However, it's a common practice that after several revisions clients still get the work, which doesn't meet their expectations.
What does the price of the order consist of?
The price, which you see for your order depends on several factors, such as number of pages, type of assignment, whether it is double or single spaced, academic level of writing, which you need, and the time period, during which your order must be completed.
Plus, some additional services affect the price too. For instance, to choose a top or premium writer, you have to pay $5,21 or $10,45 respectively.