Full Overview of GrabmyEssay Writing Service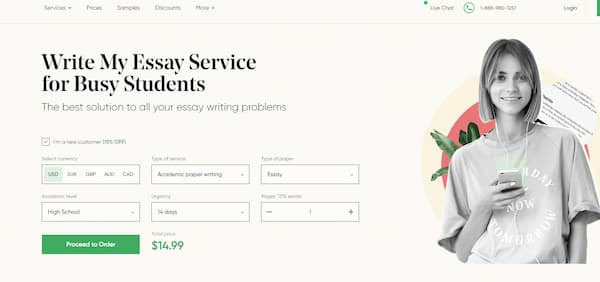 Benefits
– easy navigation
– good discounts
– variety of services
Total

15

Professionalism

40

Quality

94

Functionality

30

Reliability
Visit Site
September, 2020 Last Update
GrabmyEssay is a pretty new writing service that was created in 2015. It owned by the NetFix LLC company. GrabmyEssay provides writing services of many kinds – there are an enormous amount of different options. It has significantly high prices compared to the other analogical websites. As every writing service, GrabmyEssay promises to have professional writers, native English speakers only. But the quality of works doesn't prove this statement. Also, the online reputation of this service is quite controversial. It seems to have a great reputation at first, but then you get to know that GrabmyEssay owns the website with reviews. Maybe, that's why it has an only positive review on it. Anyway, let's make an honest review of this writing service.
Services
There is a wide variety of services you can order. Literally, you can get any kind of assignment on GrabmyEssay: essay, research paper, review on anything, lab report, dissertation, presentation, article. It's not even the whole list. Will all these assignments be written properly? It's a question.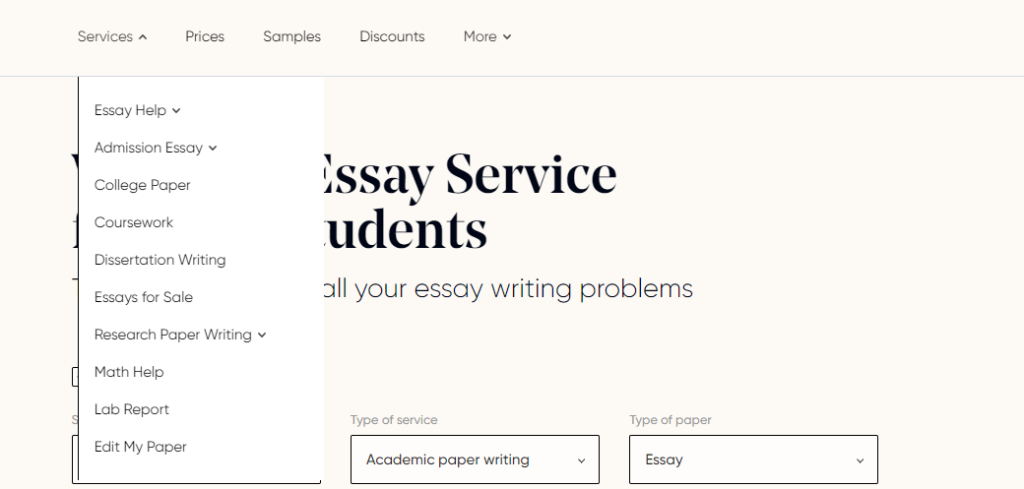 Also, there are options for editing, rewriting, and proofreading. You can order this services for your own paper. There is an option of completing only part of your work, for example, writing an essay based on an existing plan.
Prices And Discounts Of Grabmyessay
This service has prices above average. Their website says that it's fair to pay a high price for high-quality work, but you never know if your order will be worth the price. So, how expensive is it? Prices start from $14.99 per page, and it seems to be okay. But it's the cost of the simplest essay with the deadline of 2 weeks. If you change the level of work and the time of the deadline, the price will go up. A college-level essay with the deadline of 24 hours will cost you $29 for one page! It's no longer cheap, isn't it?
You can get a 15% discount for your first order. Then, the service offers progressive discounts depending on the number of orders you place. But don't get filled with these propositions. There are a lot of factors that make your order more expensive—for example, Premium Writer of originality report.
Quality of GrabmyEssay Works
Some customers are satisfied with the quality of their orders, but there are a lot of complaints about mistakes in writings provided by this service. According to reviews, writers don't seem to be native English speakers, as mentioned on the website. Some mistakes are terrible, and essays have no logical structure; words are used incorrectly and placed in the wrong order. It's a sign that the writer is a foreigner who doesn't speak English fluently.
Guarantees And Support
You are guaranteed to get your money back, but there are some terms. If you cancel the order when it's not assigned yet, you will get a full refund. But if it was assigned to a writer, you won't get more than 70% refund. If your work is half-way done, you will get back only half of the price you paid. But if you aren't satisfied with the quality of your work, you are unlikely to get a refund at all. GrabmyEssay support service doesn't consider your discontent as a relevant reason for the refund. So, if your work is plagiarized, contains mistakes, doesn't respond to the requirements, you can't do anything about it.

Customer support works 24/7, but it takes some time to get an answer to your question. Operators work pretty slow, so be ready to wait.
Grabmyessay Online Reputation
There are many good reviews on GrabmyEssay, but you can also find really terrible ones. Some positive comments seem to be fake since NetFix LLC owns a website with reviews. We don't recommend you to believe every good comment about this service. There are a lot of complaints from customers about the quality of works, ignorance of writers, bad customer support service.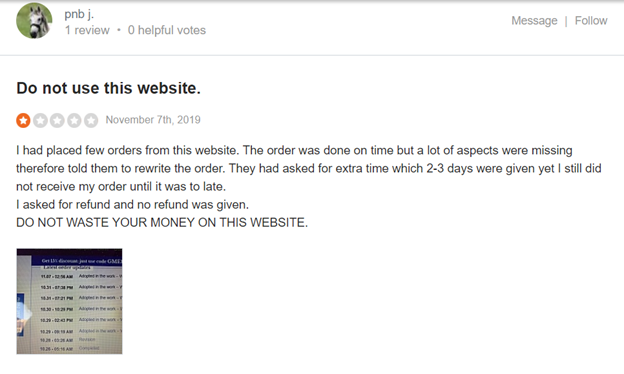 GrabmyEssay may seem legit from the first sight, but we recommend you to choose a more reliable service.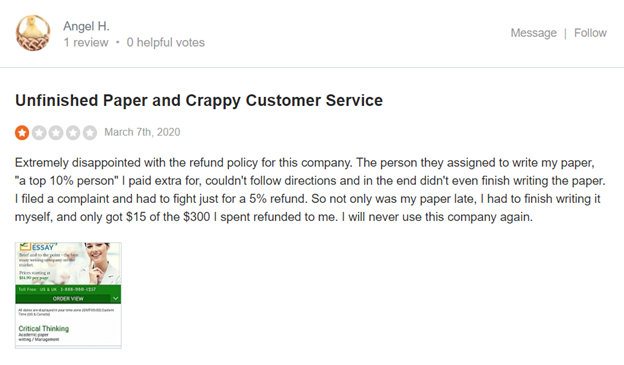 Pros and cons
Pros:
A big variety of services
Understandable and modern website
Discount options
Cons:
Too expensive for such a poor quality
Unprofessional writers with imperfect English
Hard to get a refund
Mistakes and plagiarism in works
Conclusion
GrabmyEssay is a pretty controversial writing service. According to its poor quality of works, unprofessional writers, high prices, and cases of plagiarism, we can't recommend this service. You can find a better option for the same money, so don't get fooled.
FAQ: Answers For The Most Popular Questions
Is GrabmyEssay Legit?
It does deliver the material you have ordered. So, it can't be called a fraud. Nevertheless, the quality of these papers isn't worth the price you paid. You can get illiterate material written by a foreign person who can't handle the structure of the paper. It doesn't seem legit, right? Also, it's hard to have your money back. Customer support doesn't consider the bad quality of work as a good reason for the refund.
What Are The Prices There?
The price starts at $14.99 per page. It's a normal price, you may think, but with every new requirement, it goes significantly higher. If you change the deadline from 14 days to 24 hours, it will get two times bigger. If you need college-level work, not a high school one, your price will be higher too. There are also extra charges for Premium writers and plagiarism report. Basically, GrabmyEssay prices are too high for the quality of their works.
Is Grabmyessay A Scam?
It's pretty risky to use this website. When you pay for your order, you can just hope that it will be done properly. Because if it's not, you won't get your money back. It seems like an unfair deal. They always deliver orders, it's true, but what's the point if they miss deadlines and provide bad quality works? Customer support won't be on your side, because they only care about making more money.
Is It Plagiarism-free?
GrabmyEssay promises to be absolutely plagiarism-free. But is it true? We can't say so. There a lot of comments about their works being copied from other sources. So, even though they guarantee you 100% original paper, you can get a work full of stolen material. Therefore, it's dangerous to trust grabmyessay.com – if your professor finds plagiarism in your assignment, you can have serious problems.
Can I Get A Refund If I Don't Like My Order?
You can cancel your order before it's done. Depending on how far the writer went with completing the order, you can get from 100% to 50% refund. If you got your order, didn't like it, and asked for a refund, you no longer can use the paper you received. Also, if you got a bad grade for your work, GrabmyEssay won't take any responsibility for it. They mentioned this point on their website.
Are There Any Discounts?
Yes, you can have a 15% discount for your first order. Also, there are discounts for regular customers, the more orders you make, the bigger discount you get. But it's not really helpful since prices are pretty high and there are extra charges for some options. If you want to hire a Premium writer, it will increase the price of 10-30%. Proofreading is a separate service, and you have to pay for it too.
Who Are The Writers On Grabmyessay?
According to the quality of works, writers are not native English speakers. There are a lot of spelling mistakes and incorrect sentences in their writings. Customer support workers assured us that they hire only professionals with education and experience. But we don't think that real experts would make obvious mistakes and plagiarize materials. It seems like GrabmyEssay hires foreigners who don't speak English well enough.
Is It Safe?
Your personal data will be safe. The service protects all personal information and payment data. But you risk losing your money if you order an expensive material and it doesn't match your demands. Therefore, it would be safer to choose another writing service.